Heftruck of ander intern transport keuren?
Dat kan bij ons tegen heldere tarieven en afspraken. Wij beschikken over het BMWT-keur certificaat voor de product groepen Mobiel Intern Transport, tractiebatterijen/laders en hoogwerkers.
De Arbo-wet verplicht werkgevers hun werkmaterieel periodiek door een deskundige te laten keuren.
Met BMWT-keur:
– voldoet een werkgever aan de Arbo-wet
– wordt het werkmaterieel deskundig gekeurd
– is de keuring te combineren met onderhoud, zodat onnodige stilstand wordt voorkomen
Voor de keuring van werkmaterieel maakt u een afspraak met een keurend bedrijf. Een keuring kan worden gecombineerd met een onderhoudsbeurt. De keurmeester loopt het materieel na aan de hand van een gestandaardiseerd keuringsformulier met bijbehorende instructies. De keurmeester noteert de resultaten van de keuring op het BMWT-keuringsformulier. Van ieder gebrek dat de keurmeester tegenkomt, geeft hij aan wat de noodzakelijke maatregelen zijn om het te verhelpen.
Jaarsticker
Als de truck of machine is goedgekeurd, plakt de keurmeester een jaarsticker op de basissticker. Hieraan kunt u zien wanneer het materieel opnieuw gekeurd dient te worden. Bij afkeur plakt de keurmeester de sticker nadat de gebreken zijn verholpen.
Onderhoud en keuring in één bedrag?
Dat kan!
Onderhoud en keuring op locatie is inclusief:
Controle punten lijst keurformulier BMWT.
BMWT keuring, sticker en afmelden materieel.
BMWT keuring, sticker en afmelden lader/batterij.
Preventief onderhoud, doorsmeren smeerpunten en/of olie peilen (kleine service beurt).
Accu en lader controle.
Minimaal 3 machines per locatie bezoek (of volgens afwijkende afspraak).
Totaal per elektro pallettruck               € 170,-
Totaal per elektro heftruck                    € 210,-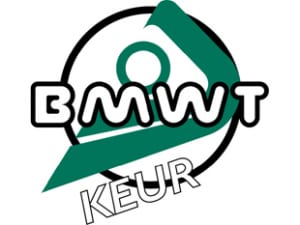 Totaal per diesel heftruck                      € 180,-
Totaal per elektro hoogwerker              € 175,-
plan hier
uw reparatie
of onderhoud